Cloncurry Copper Project
The Cloncurry Copper Project (Cloncurry) is located 95 kilometres north-east of Mt Isa in north-west Queensland, Australia. Roseby is 100% owned by Altona.
The Mt Isa area is one of the world's foremost base metal mining provinces. It is estimated that the area hosts approximately 11% of the world's zinc, 5% of its silver and 1% of its copper.
Despite the large copper and gold Resources that have already been declared, most drilling at Roseby is limited to the known deposits and is very shallow. Roseby remains highly prospective and underexplored. In addition to excellent copper and gold exploration potential, the project is prospective for the discovery of uranium, molybdenum, rare earth elements (REE) and zinc deposits.
1. Cloncurry Project Overview (Read More)
2. Little Eva (Read More)
3. Looking Ahead (Read More)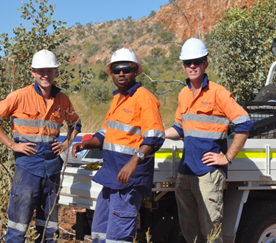 Members of the geology team in Cloncurry